Thank you for your interest in Street-Wise!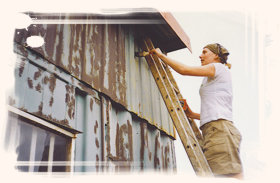 Street-Wise Durban has had volunteers from all over the world involved in the delivery of its program for many years. Volunteers are seen as an essential part of the team and are greatly valued, without them the service would not reach as many children as it does at present.
No matter if you want to be a long term volunteer from 3 months up to 1 year or longer or you'd just like to offer a afternoon programme, volunteers are always welcome. You'll find more information about Street-Wise on this Homepage, if you have special questions, please use the volunteer's contact form below.
«Myself and two fellow volunteers arrived at Mariannhill at the end of July for a month long stay. During our time here we also visited the Halfway House in Botha's Hill, and spent a few weeks working at the Prevention Centre in Amaoti.
As we are preparing to leave, the main memories I will take with me will be the love and dedication with which all members of staff at Street Wise Durban go about their work. Also, I will always carry with me the laughter and easy smiles of the children as they adjust to a life away from the harshness and cruelty of Durban's streets.
For me, Street-Wise Durban is a vital establishment in all it's aspects, for providing kids with a hope and a chance for a better future. My time here will always remain in my heart, and I hope that this trip will not be a one off experience.»
Niall O'Hagan, Volunteer from Ireland, August 2004


Would you like to work at Street-Wise as a volunteer or do you just need more information about our project? Feel free to contact us!